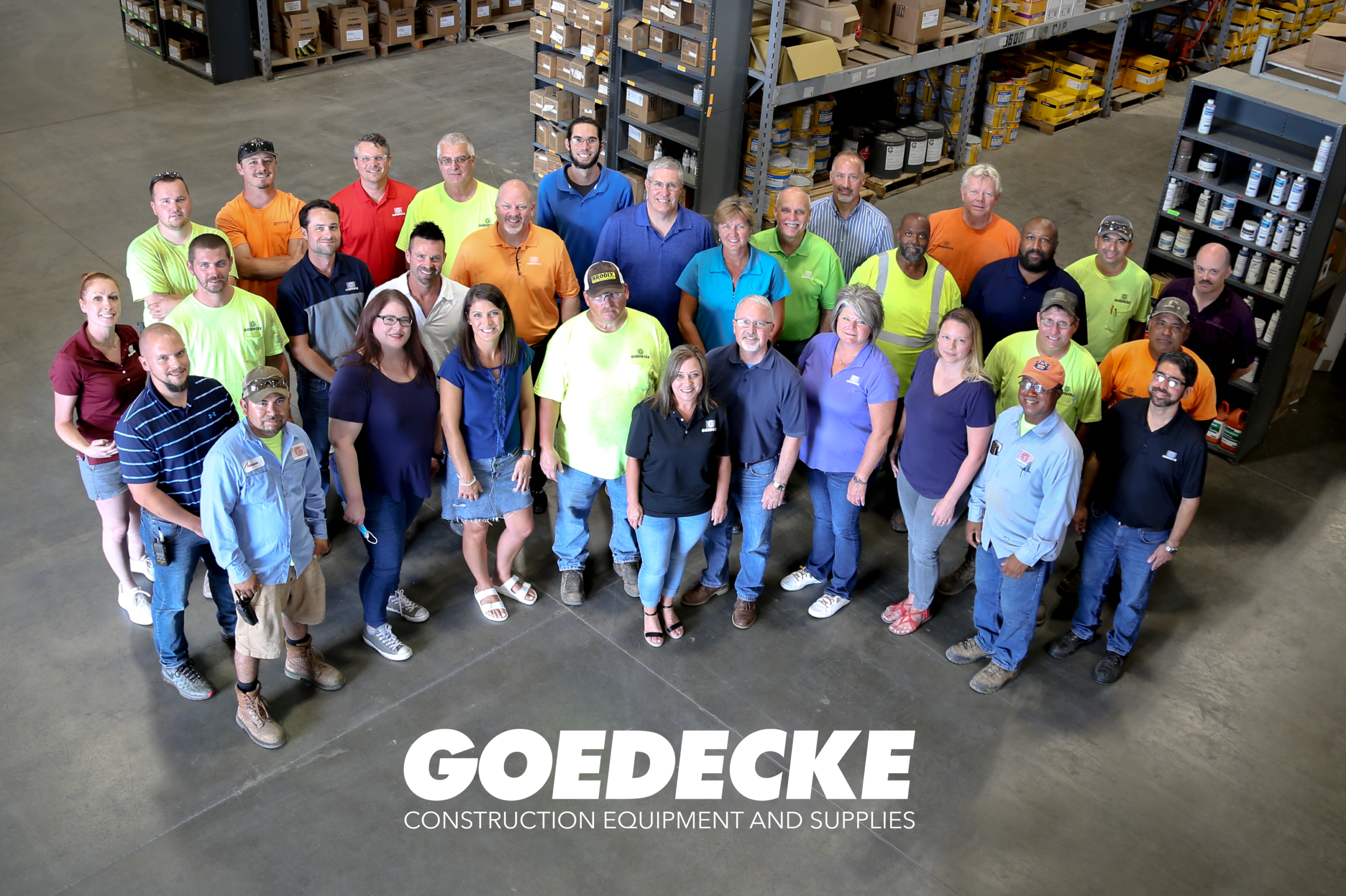 OUR MISSION:
Building Value Through Long-Term Relationships, Supplying Service & Delivering Solutions On Your Current & Future Projects Since 1947
TEAM GOEDECKE:
Goedecke has been supporting its customers since 1947 with forming & shoring systems, & tilt-up equipment. Goedecke has a vast rental fleet of forming and shoring systems. Many projects have been successfully built with these systems such as: the tunnel under the Gateway Arch, Metro-Link, and Busch Stadium (old & new).
Goedecke is also proud to represent the leading manufacturers of sealants, waterproofing, concrete and masonry products. These manufacturers reflect Goedecke's commitment to provide the most effective engineered products with long-term performance.
Goedecke has the best construction equipment available in one place. Goedecke represents Allen Concrete Equipment, Multiquip, EZ Grout Masonry Equipment, Fraco, Alimak, Geda Elevators, Sky Climber Swing Stages, Gradall Fork Lifts, Terex Cranes, Soff-Cut, Target, Partner, Stihl saws and much more. Goedecke will also service all equipment (rented or sold).
Goedecke has a Design Department dedicated to Concrete Forming & Shoring to ensure your project is efficient from conception to completion.
Goedecke also designs, erects and dismantles shoring & access equipment for commercial or industrial applications.
OUR HISTORY:
It all started in 1947 when Mr. (Vernon L.) Goedecke decided he wanted to be his own boss. Only having a sample in his trunk, he began selling Universal Ezebilt Scaffolding to contractors via direct shipment from the factory. In 1950, Mr. Goedecke bought a building on the corner of Clayton and Sarah in downtown St. Louis.
In 1951, Symons Corporation came to Mr. Goedecke to start a dealership for Symons Wood-Ply Forms. It did not take long before Vernon L Goedecke Co. Inc. was bringing five truck loads of forms a week into the St. Louis yard.
In August, 1986 Ron Peterson purchased the company and Goedecke soon opened new branches in Missouri, Kansas & Indiana." In the Spring of 1991, Goedecke purchased M.F.G. Corporation adding manufacturers such as Dow Corning, C.I.M., Prosoco, W. R. Grace and Tremco to its product offerings. Goedecke has a vast rental fleet of forming, shoring and scaffolding systems. Many projects have been successfully built with these systems including the subterranean tunnel beneath the Gateway Arch, a reservoir on top Tom Sauk Mountain, and Busch Stadium (old & new).
Today, Goedecke has many locations across the midwest. The Goedecke Company looks forward to not only continuing our rich tradition, but in striving to improve our value to the construction industry in the Midwest.