DECATUR BRANCH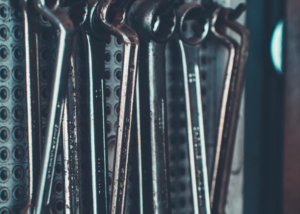 JOB DESCRIPTION
Summary/Objective
The maintenance mechanic position conducts machine setup, troubleshooting, repairs and preventive maintenance service.
Essential Functions
Reasonable accommodations may be made to enable individuals with disabilities to perform the essential functions.
Provides emergency/unscheduled repairs of production equipment during production and performs scheduled maintenance repairs of production equipment during machine service.
Prepares and sets up machinery for scheduled production runs.
Performs mechanic skills including, but not limited to, mechanical, electrical, pneumatic and hydraulic troubleshooting and repair of packaging and production machines.
Reads and interprets equipment manuals and work orders to perform required maintenance and service.
Comply with OSHA safety and health rules.
Competencies
Ability to read/interpret wiring diagrams (both AC and DC)
Preferred knowledge of 480 volt, 3-phase electric
Rack and pinion motors and gear boxes
Equipment
Rack and Pinion construction elevators/hoists
Hydraulic cranes
Concrete grout pumps
Swing Stages / Suspended Scaffolding
Work Platform / Mast Climber
A variety of other small equipment
Work Environment
The employee is occasionally exposed to a variety of weather conditions at construction job sites. This position requires work in high locations. The noise level in the work environment and job sites can be loud. (Proper safety equipment and training will be provided by the company.)
Position Type/Expected Hours of Work
This is a full-time position. Typical hours of work are Monday through Friday, 7:00 a.m. to 4:00 p.m., 40 hours per week, may require occasional emergency weekend hours.
Travel
Travel is primarily local during the business day, although some out-of-the-area and overnight travel may be expected.
Preferred Education and/or Certifications (Company is willing to train and help individual to get the proper certifications and licenses)
Elevator licenses in the following states desired: Missouri, Illinois, Indiana, Kentucky
OSHA 10 Certification
MSHA Part 48 Above Ground Certification
Other Duties
Please note this job description is not designed to cover or contain a comprehensive listing of activities, duties or responsibilities that are required of the employee for this job. Duties, responsibilities and activities may change at any time with or without notice.
Benefits
401 K plan offered
Medical/Dental/Vision offered through Blue Cross Blue Shield
Company Paid Life Insurance
Company Paid Long Term Disability